Unfortunately, your HVAC (Heating, Ventilation, Air Conditioning) systems do not last forever. Wear and tear occur, as do malfunctions. You also have to consider new HVAC products and advancements that can quickly demote your current systems to "a thing of the past". Your systems may be in fine shape; however, if you've been paying for recent repairs, it may be time for HVAC replacement Corsicana, TX.
Signs of Replacement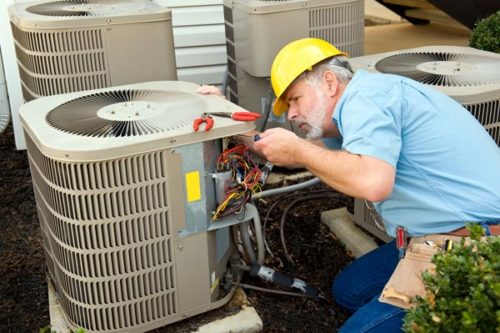 AC a decade old/Furnace 15 years old
Every product has its limits. You should keep an extra close eye on your air conditioning unit once it hits the 10-year mark. Furnaces have slightly longer life expectancies; 15 years is when you should become wary. The systems may not bust or become functionless; however, they will likely be losing efficiency and productivity by those designated points in their tenure. Rather than waiting for them to become functionless, timely replacements are ideal.
Frequent repair maintenance
It's never a good sign if you're having to pay for frequent repairs and/or checkups. In this case, you are likely just prolonging the eventual system failure and delaying a needed HVAC replacement Corsicana, TX. Next time you have an HVAC repairman stop by, ask him/her if you would be better off with a new system.
Upgrading either AC or furnace
Essentially, if you upgrade one then you need to upgrade the other. Most of the time, the air conditioning unit and the furnace collaborate to cool your Corsicana, TX home. Purchasing and installing a new AC unit will only be partially productive, as the lack of a new furnace will prevent it from performing at maximum capability.
It's kind of like having two car tires replaced instead of all four. By the time your need to replace the other two, the two that had already been replaced will have experienced wear and tear. Everything is better when on the same schedule.
The AC unit is unusually noisy
You should be able to tell when your air conditioner is acting out of the ordinary. A typical sign is excessive noise. Something could be stuck in the unit's fins or there could be a serious internal issue. Either way, it would be a good idea to contact a technician to take a look.
Searching for a new HVAC system
HVAC systems are not one size fits all. A system that is too small can have difficulty heating and cooling all areas of a home and a system that is too big can force higher energy costs. Thus, it's important to determine the proper size by speaking with an expert, accounting for your home's square footage, accounting for the number of rooms and the number of people within the home, and honing in on highly-rated systems.
A little tip…you can accomplish all of this by relying on the former suggestion—speaking with an expert.
A number of HVAC companies (including Area Wide Services) offer both services and products. So, you can speak with a company representative about your home layout and the representative should be able to match home specifics with two or three ideal products. Preferably, you deal with a company that will send an expert to your home for an accurate assessment.
By assessing your home, the expert will determine the heating and cooling load in which your home can handle. The precise AC tonnage needs to be determined, as does the precise furnace BTU output. Tonnage measures the cooling output per hour; BTU output measures heating production by the furnace in a given time.
In addition, it would be wise for you to mention SEER and AFUE to your HVAC expert. SEER (Seasonal Energy Efficiency Rating) rates the efficiency of an air conditioning unit. The higher the rating the better. Keep in mind, a higher rating also coincides with a higher price.
AFUE (Annual Fuel Utilization Efficiency) rates the efficiency of a furnace. Similarly, the higher the AFUE percentage the more efficient the unit will be at heating your home.
If you are taking notes, jot down:
Expert input
Home square footage
Heating/Cooling load
SEER
AFUE
Types of Systems
Split Systems
Split system HVAC units exist in the majority of U.S. homes. It's called a split system because two units make up the system. One unit, the evaporator coil, is located somewhere inside a home, and the other unit, the condenser coil, is located in a metal box outside of the home.
In a nutshell, the evaporator coil removes heat and moisture from the air while the condenser coil releases the heat. The compressor pumps refrigerant among the two coils and then the blower component facilitates the cool air throughout air ducts and into the living area. Simple enough, right?
Even if you don't entirely understand the cycle, just know split systems have a reliable reputation; hence, their commonality.
Heat pumps are also a split system, only they operate differently. During the summer, a heat pump's outside coil releases heat to the air while the indoor coil absorbs heat which is then cooled by refrigerant. During the winter, the outdoor coil absorbs heat by refrigerant and the indoor coil releases heat into the home. Heat pumps make for a simpler cycle.
Packaged
The all-in-one system. Packaged HVAC systems include the compressor, evaporator and condenser. Rather than splitting the units between inside and outside, a packaged system will either be installed on top of a home's roof or just outside the home. This type of system will often include a natural gas furnace as well.
Best Time of the Year for an HVAC Replacement Corsicana, TX
If experiencing a heating or cooling emergency, do not delay assistance and call an HVAC contractor immediately. Area Wide Services offers 24/7 emergency services. Even if it's 2 AM Christmas day, you can give us a call.
Now, for the laxer HVAC needs, there are times throughout the year that are more opportune than others. For instance, AC repairs and replacements are in very high demand in the summer. Especially Corsicana, TX summers in which temperatures are routinely in the triple digits. Of course, you can't help it if your AC malfunctions in the summer. You'll obviously need immediate help so you can reclaim the comfort of your living space. You can however decrease the likelihood of a summer system malfunction by opting in for fall and spring tune-ups and checkups.
If your HVAC system is ready for a replacement, either by proof or assumption, it's good to schedule a replacement for the fall or spring. The primary reason is very straightforward: HVAC contractors are not as busy during these seasons. The extreme heat of summer and the considerable cold of winter keep contractors very occupied in the fitting months; therefore, it's best to get HVAC help during times when temperatures are less extreme and less impactful on your heating and cooling systems.
HVAC replacement Corsicana, TX in the fall or spring will have your home prepped for the winter or summer. You won't have to keep your fingers crossed that your system makes it through "one more winter". Fall replacement is also an opportune time to have your air ducts cleaned. With a new system, it's nice to have all other facets of heating and cooling on par and refreshed.
What to look for in an HVAC Contractor
For any job that consists of a random person or random people working on some aspect of your home, it is important to confirm that person or those people are licensed and insured.
Licensed contractors will have passed specific examinations pertaining to on-the-job knowledge and tasks. Moreover, a contractor license is a sign of credibility. Insurance is key for the sake of protecting your home while someone else is working on it.
It goes without saying, the longer a company has been in business, the more credible a company seems. This does not mean experienced companies guarantee great work and great customer service, but there is generally good reason for a company being in business for a long time. With the amount of competition there is in the HVAC industry, finding a few that have been in business for 10+ years is a helpful way to narrow your search.
Check websites and reviews. The legitimacy of a company website is certainly encouraging. Often times, companies will include customer testimonials for visitors to view. A website should also detail products and services and leave you more knowledgeable about HVAC from when you clicked onto the site.
Of course, a company website is going to be a bit biased towards their business (believe it or not); therefore, third party input may be even more helpful to your search. You can check Yelp and other customer review websites to get a look at prior customer's personal experiences with the company or companies that you are considering for your HVAC assistance.
Area Wide Services
If you are looking for HVAC replacement Corsicana, TX (we assume you're are since you have read this far), call Area Wide Services, Inc.! We offer a plethora of services, including preventative maintenance, duct and dryer vent cleaning, and home and duct performance testing. Oh, and we of course offer HVAC replacement.
We also offer HVAC related products, including heat pumps, air conditioners, furnaces and air handlers. Some of our advanced temperature control products include Solatube Daylight Systems, Honeywell Controls and Nexia Home Automation systems.
Please visit our website—www.areawideservices.com—to learn more. Also, please visit our blog for additional heating and cooling advice. We'll get the ball rolling by providing a free estimate.
Call Area Wide at (903) 467-5620 for HVAC Replacement Corsicana, TX!
Increase the life of your equipment
Call Area Wide Services at (903) 874-5298 or Fill out our form
contact us